Appreciation should not be sought. However, good work attracts goodness and good people. SCMLD is looking for good students to help them become action leaders. The following are some appreciations which came on the way. However, the real appreciation is in the success of our students who will appreciate in value by being valuable to themselves, their families, organisations, the country and the community at large and more particularly the unserved, the under-served and the deprived.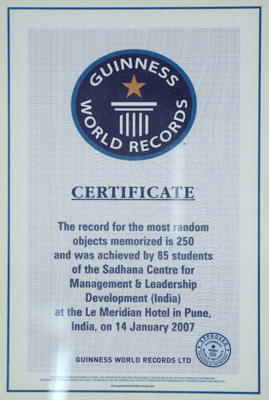 On 14th January 2007, SCMLD broke a world record and entered its name in the Guinness Book of world records. 85 motivated and hard working minds of SCMLD memorized and reproduced 250 random objects and got into that unique world record. Mr. P. Mahadevan of Coimbatore trained them to master this skill. SCMLD will be ever grateful to him and the 85 children who toughened it out.

Rotary Club of Poona for inculcating values and qualities in students on 6th October 1997.
Rotary Club of Pune, Kothrud, for Outstanding Contribution in the field of Education, on 11th August 2001.
'Best Teacher in Management' at Indus Ind Bank, India Leadership Summit on 24th November, 2002
'Making Par Excellence Contribution towards Promotion of Value Based Management Education in India' by the Rotary Club of Poona North on 21st May, 2008
Best Teacher in HR at the 16th Business School Affaire & Dewang Mehta Business School Awards on 26th September, 2008.
Outstanding Business School in Marketing West by Impact (Marketing, Advertising & Media weekly) on 6th February 2009.
Dr. Sarvapalli Radhakrishnan Award for Outstanding Contribution to Teaching at Dewang Mehta Business School Awards – 2009, on 5th November, 2009.
'Business School with Best Academic Inputs (Syllabus) in Human Resource' on 5th November, 2009.
'Best Social Entrepreneur of the year' – 2009 awarded by INDCOM.
Outstanding B-school (West) awarded to SCMLD at Dainik Bhaskar B-School Leadership Awards on 12th February, 2010.
'Project Management Excellence Award' for contribution in the field of management at the 4th International Convention on Project Management – Target 2010 on 14th February, 2010.
'Excellence in Education' at the 2nd Annual Business & Social Awards of World Malayalee Council, Pune Province on 24th April, 2010.
'Achiever of Excellence' Award – 2011 (Bombay Management Association).
Grid Lifetime Achievement Award – 2011 (Dr. P.N. Singh Foundation).
Business School Leadership Award at Dewang Mehta Business School Awards on 26th November, 2011.
'Qimpro Gold Standard Award' in Education – 2011 by Qimpro Foundation, February – 2012.
'Karmaveer Puraskar' – 2012 (Civil Society KVP Education) by International Confederation of NGOs.
Best Management Teacher – Bharat Asmita Acharya Shreshta Award – 2014 – 3rd February, 2014.